In 2028, the LA Olympics aims to be the first global sports event to use existing structures rather than building new stadiums. This effort will bring ideas around reimagined space into the mainstream, raising demand for players that know how to reuse and repurpose.
SKWAT, a Tokyo-based collective conceived in 2019, is one of these. The members have been transforming spaces around Tokyo and beyond since the early 2010s under various identities.
We are in a building in the luxury locus of Aoyama, Tokyo. A place so devoted to the modern handbag temples of lux that squatting seems almost unimaginable among the high fashion. Of course, this particular site is somewhat sanctioned. SKWAT has three different spaces in the building — a bookshop run by twelvebooks, a Lemaire store and the experimental space PARK. Together they offer a view on how to reimagine space as an experiment, a way to revive the city at large. Other spaces came before this and more are to come.
"The initial idea was to move from space to space. Vacant spaces within the city. But during COVID, we figured that it's also nice to have some sort of headquarter. We have to leave this space, too," says Keisuke Nakamura, a founder of SKWAT and the visionary behind its aesthetic activism. "It's about expressing inclusiveness. Architecture and design can have a visual language that is very intimidating in material choice — steel, marble, … — depending on how you use it can be very intimidating and feel exclusive. We don't really touch the base of the space and we use what we have at hand. Materials that are familiar to everyone. Cheap materials like roll carpet. I don't think it's very intimidating."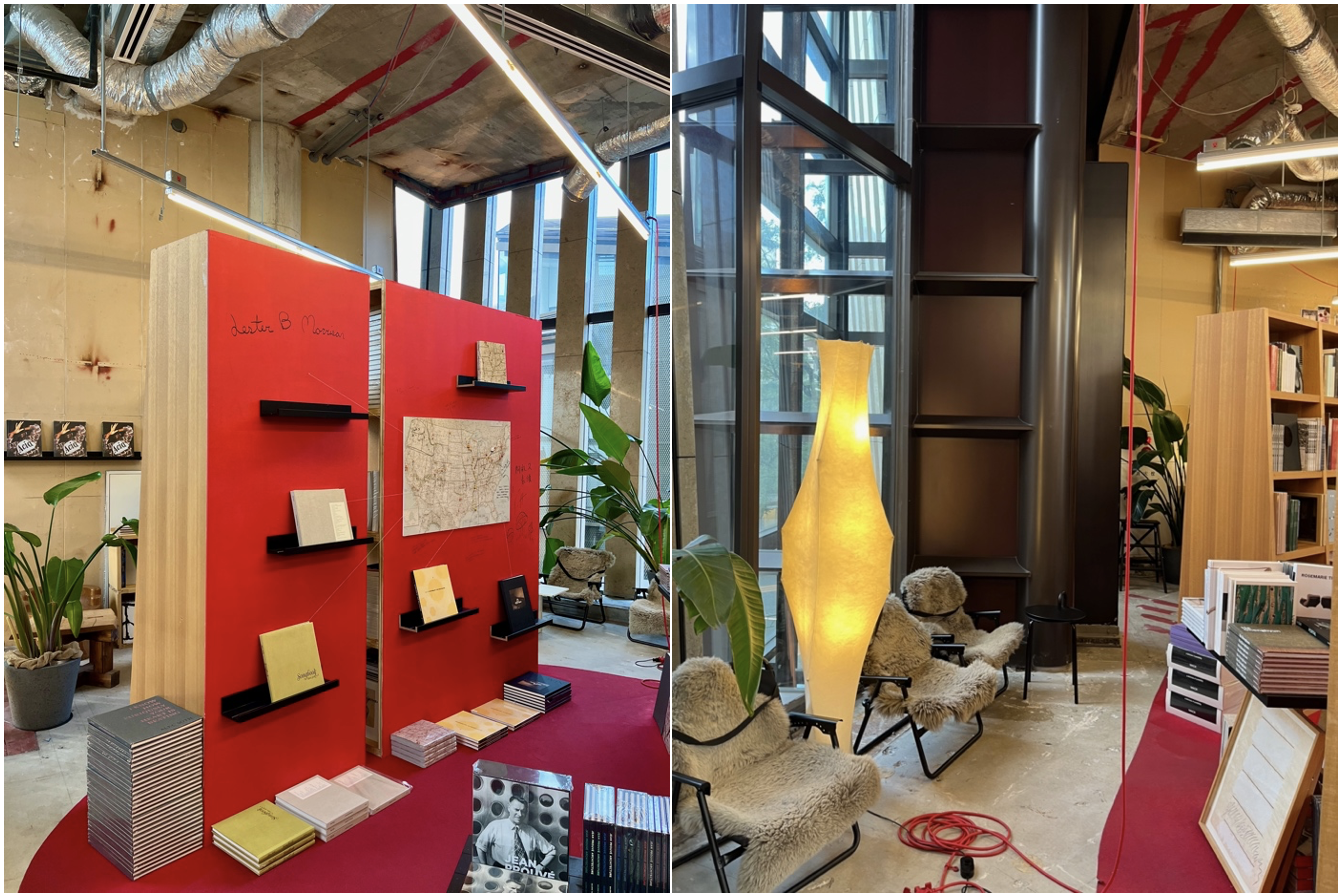 "I think the visual language for us here is approachable. I hope so," Keisuke said, explaining SKWAT's method of building on the signature design of a space. "We touch on the main substance of the building, using what we have there."
"We also reuse everything for a lot of projects. For example, the Lemaire store here is built with materials from an old Osaka house. It can be completely dissembled and moved if needed. Sometimes we buy or purchase new things but otherwise rent, in the basement ("PARK" space) the scaffolding structure is all rental. And we often change the structure and shape depending on what we want to do in the basement, like Legos. I love an adaptable approach that adds new value to a space. Very flexible."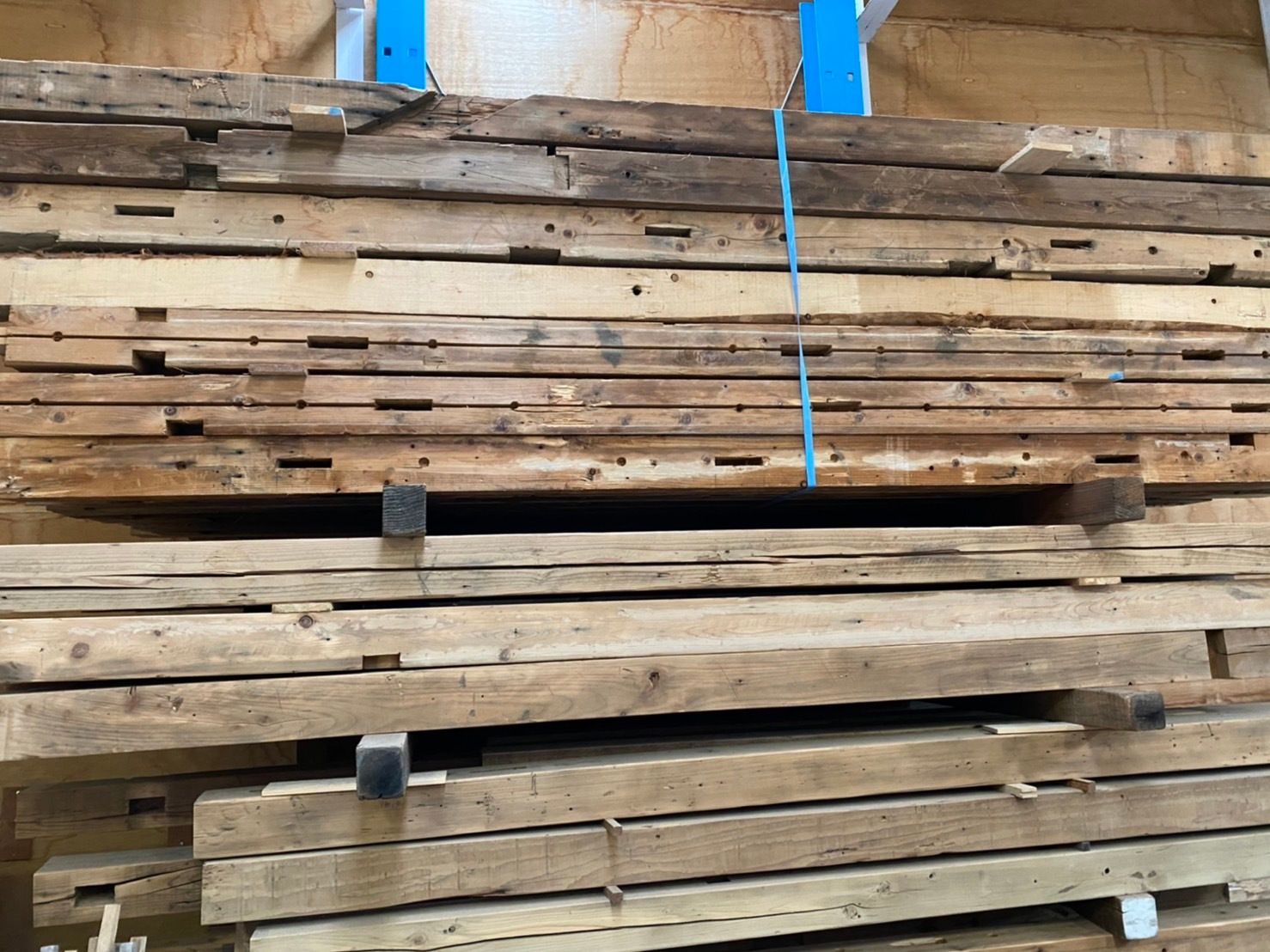 Sustainability and fiscal responsibility are core to the LA Games Plan: no new permanent venues are needed in 2028. This approach has not been the norm for major sports events, with histories of local debt and too many stadiums, although the Paris Games in 2024 came close, with 95% of venues existing or temporary. In fact, SKWAT was set up with the expectation of Tokyo Olympics overbuilds in mind as a way to open up unused urban spaces for the public to discover.
Let's be honest, there's nothing new about reusing things. It's as old as life itself. But there's something new about rarely reusing and just erasing. And so traditional practice becomes modern. In utilising unused spaces and designing for modularity, the design principle becomes about achieving maximum results with minimum interference in the foundational environment. Perhaps even bringing out and putting on a pedestal the unique elements of a place. It allows us to be non-prescriptive and dream of multiple futures for a place, rather than just one or a few.
"It's a very broad range, the projects we do," says Irene Yamaguchi of the SKWAT team, as we eat bento from Kisurin at the SKWAT/twelvebooks space in Aoyama. "It's a wide variety of approaches.  And I think that creates a very interesting synergy. We all have a different background, from architecture, fine arts, interior design, and research. It makes it about collaboration and the synergy that is created in a diverse team. Education creates interesting results, so we want to bring that next in the form of a learning space to include more people with different backgrounds but a sort of similar vision. That's also one lesson we learned through some of the projects. There needs to be a common base."
This common base has been missing in Tokyo and many other cities around the world. Many emerging and fast growing cities that used to have life happening on the streets and back alleys are continuously being modernised with new buildings pushing out independent public space. In New York tough busy streets were transformed into safe spaces for pedestrians and bikers with simple tools like painting part of the street to make it into a plaza or bus lane (safer, smarter streets with increased foot traffic and revenue for businesses). Knowing how to read a space helps you make it function better by reallocating the space that's already there and breaking it into its component parts and rewriting the source code. Simply having a picnic might also be a subversive act of change making.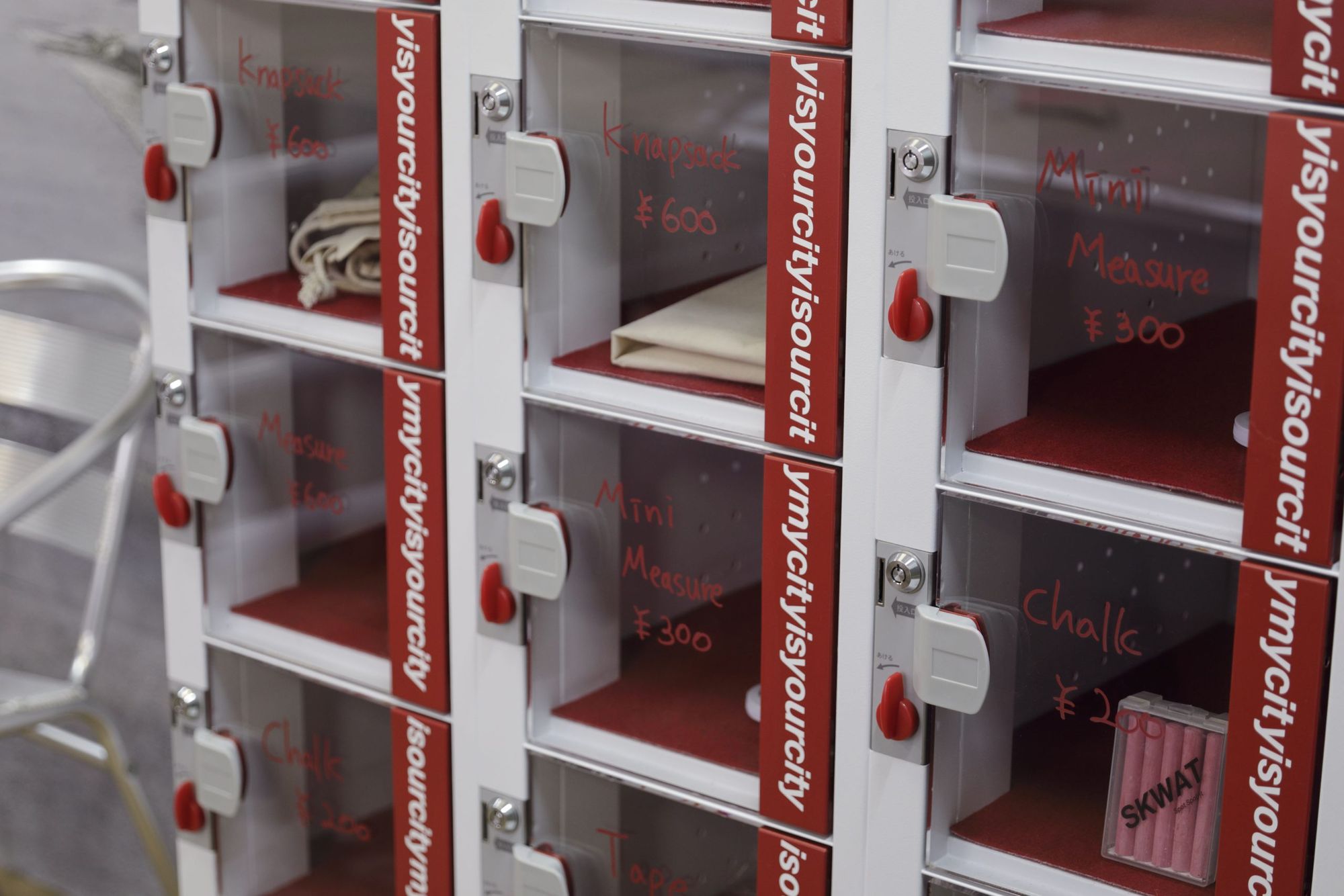 "We're open to somehow connect to the people who come into our project through SKWAT. We have met a lot of interesting people who gather here not only from Japan but also from abroad," says Irene. "We are not trying to influence but perhaps more be the catalyst of a process, a way of thinking, looking at things or approaching things, a range of processes. A platform for all sorts of different creators. It has no fixed form, really. Of course we're trying to find like minded people that have a similar vision and we hope to, I don't want to use revitalize, vacant space, voids, interests while trying not to have this top down approach, like a lot of cultural institutions, for example art museums, often do."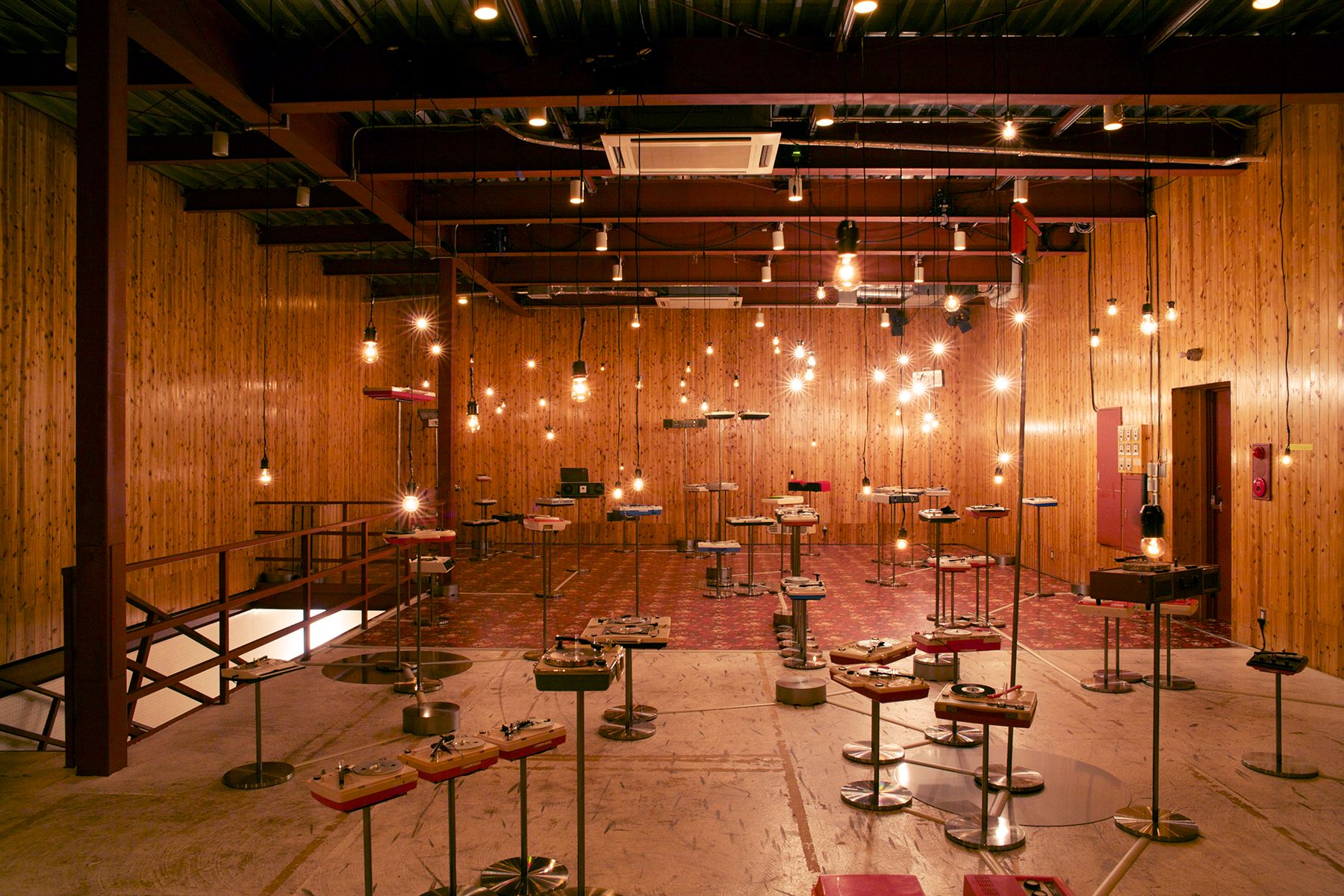 In a way, SKWAT has develop a visual language that is both accessible but also, although varied, highly stylised. It's a strong voice that may affect the expression of others but isn't necessarily co-created. It's activism where the voice of SKWAT's design choices are as strong as that of the community or of the space being transformed.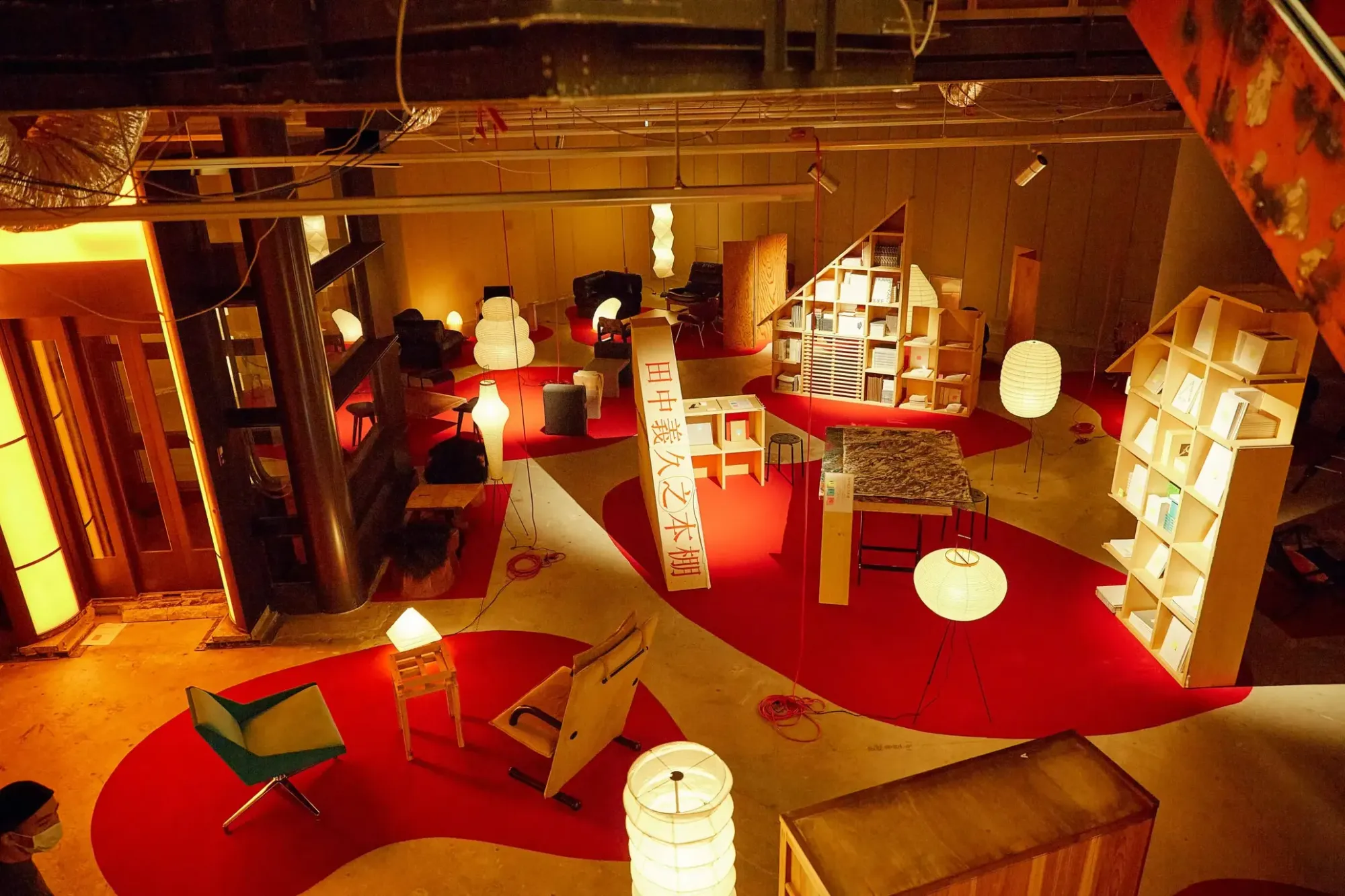 "PARK is a space made for people to use freely. If many people could feel free there, then I think we'd be closer to our ideal image of SKWAT. Freedom to live and then freedom to express themselves," as Keisuke put it. "We learned that few knew how to use free space. If you would offer such a place for example in London it could work. But here, somehow nobody came [with no prescribed 'activity']. We concluded that there needs to be more purpose. Purpose, even if it's buying a coffee, a simple exchange of money and receiving something."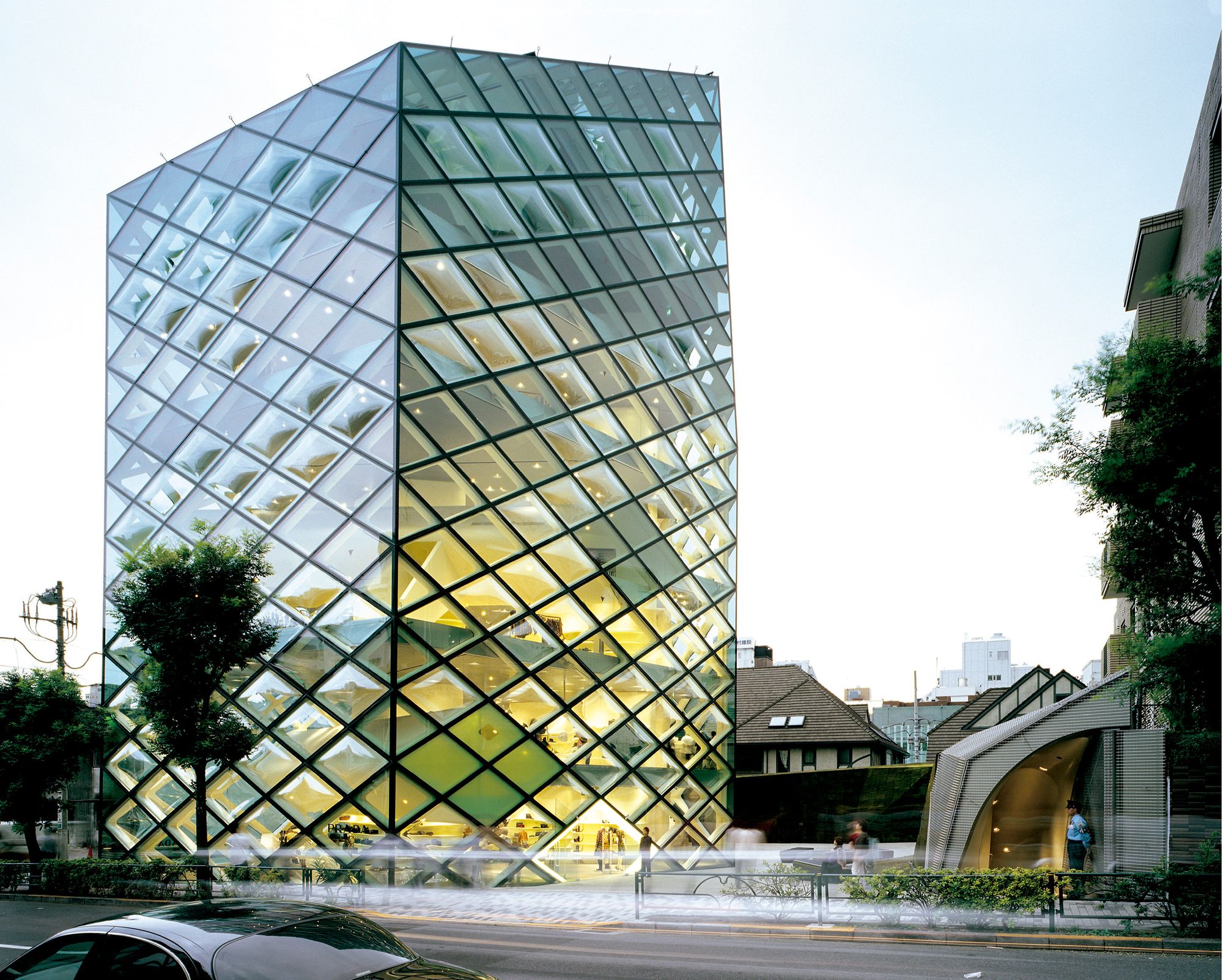 "Reconstructing things according to the zeitgeist, instead of copy-and-pasting, will lead to new values," continuous Keisuke, championing a re-examination of existing values.  I want to do a lot with SKWAT. I hope our ideas, even the ones we can't imagine right at this moment, will spread to the world and bring something unprecedented. That's how I want to change modern-day people's values."
We come back to the surroundings of the current project, the Herzog & de Meuron designed Prada 'Epicenter Tokyo' — peak lux indulgence — is barely a bloc away. How does this theory of change for SKWAT to catalyse others to do things differently really come into play here?
"It's a contrast we play with, being based at the Epicenter. Kind of fun. Nobody would expect that kind of space or culture that we have," says Irene. "Intentional or not but I kind of like the way that you get drawn in to the building. Is it a fashion store like everything else?"
Almost like a little trap. The Lemaire front store feels comfortable the context of Aoyame. And then you go upstairs to twelvebooks or downstairs to PARK  and get trapped deep in culture by a collective of artists and thinkers aiming to bring people together by challenging the spatial and cultural boundaries in society. In a good way.
--
Interview:
January 12, 2023.
Tokyo, Japan.
#modularity #reuse #multi-disciplined #freedom #gateway #catalyst #SettingCultureTrapsIn2028 #squatting #freedom